What's the donation process like? Is it painful?
Bone marrow donations nowadays are SIMILAR to the process of donating blood platelets. Most donations don't require surgery, unlike in the past. Cheekswab.org offers many useful resources.
By far, the most common method is called PBSC: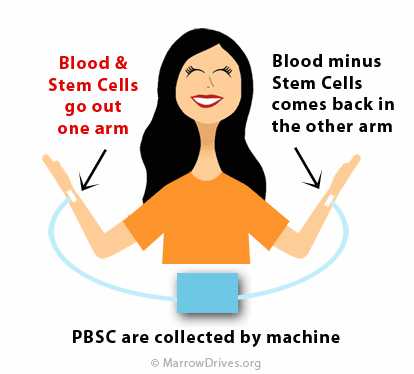 More information on this Youtube video.
A minority of donations are made through marrow donation: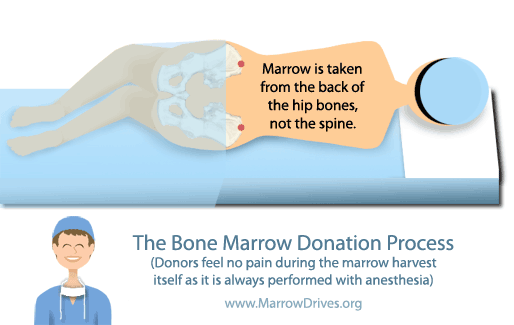 More information on this Youtube video.
Do I have to draw blood to register?
NO! Registering for the marrow registry takes less than 10 minutes and requires no needles or surgery. In the U.S., all it takes are 4 cheek swabs and a short form. More info. here!
I'm ineligible to donate… (I'm not 18, I don't qualify to register, etc.) How else can I help Janet?
If you're ineligible to donate, you can always:
I don't live in California. Can I still join the registry?
YES YOU CAN! No matter where you live in the U.S. (including Hawaii and Puerto Rico), you can join the registry. If you are matched, your stem cells will be flown to Janet.
You can order a registry test kit online or locate a registry drive near you!
I don't live in the U.S. How can I help?
You can still join the marrow registry of your home country! Be The Match has many cooperative registries all around the world so people can join in Asia (China, Hong Kong, Singapore, Taiwan),  Europe, Australia and South America! If they are Janet's match, their stem cells can be flown to her.
How do I find a registration drive near me?
You can find registry drives here:
Quick answers to commonly asked questions:
You do not need to be Asian or live nearby to register and help Janet. However, chances of finding a match are higher within a patient's own ethnic group.
If you already registered in the past, you do not need to do it again.
Registration is quick and only requires a cheek swab and registrant consent/information.
Registering places you into the national database for all patients in need. If you are a possible match for Janet or someone else, you will be contacted.
76% of matches are called upon to donate peripheral blood stem cells (PBSC), a non-surgical procedure similar to donating blood or platelets.
24% undergo a marrow collection procedure from the hip under anesthesia. Donors may experience some discomfort for a few weeks afterward. Your marrow naturally replenishes itself within a few weeks.
If you still have any questions, feel free to ask here or email us at helpingjanet@gmail.com!